TAG Heuer Formula 1 Chronograph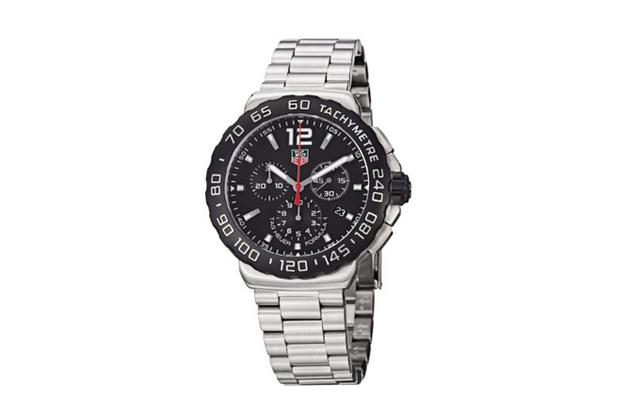 What Makes It Special?
The Formula 1 Chronograph continues the high readability and style started by the original TAG Heuer Formula 1, with clear contrasting dials that are readable at a quick glance. Combining a chronograph with a tachymetre makes this an excellent piece for measuring time and speed manually, as you'd expect with a racing watch.
However, despite its clear racing heritage, design, and function, this isn't just a watch for racers. It's casual, light, and comfortable enough to be worn by any active man, or simply as a fashion accessory. If you want to stand out, without having to lug a heavy piece of steel on your wrist all day, the Formula 1, with its lighter weight than usual, is an excellent option.
The Formula 1 obviously does have a strong connection to racing though. Using the "racing red" of its MClaren partners, ceramics, and stylish gloss, this both looks and feels like a racer's watch. It even evicts images of the cars themselves.
Basic Features
The Formula 1 has a chronograph for stopwatch functions, and a tachymetre for measuring average speeds in either miles or kilometres. Both of these are very easy to read.
On top of this, the watch uses sapphire crystal to keep it scratch-resistant, as well as ceramics to keep it lightweight and 4 times as scratch-resistant as stainless steel. The innovation in this watch in the ceramic field shines through, just like with real Formula 1 technology.
When TAG Heuer designed the Formula 1 series, their principle goal was to make it comfortable, light, highly readable, and of course, stylish.
You can read more about this on the official TAG Heuer website.
Variations
There are many different variations in the Formula 1 series. You can find some of them, along with considerable discounts on Amazon.