1
Swiss Legend Watches Review: What You Need To Know
If you are looking for a stylish yet comfortable timepiece that could last decades, then you might want to take a look at Swiss Legend watches. Swiss Legend has been continuously producing exemplary watches, always exceeding their goal which is to provide watches while blending the famous Swiss precision with a fashion-forward design.
The experienced craftsmen of Swiss Legend created watches that would give you an option to choose either of the two types of movement: quartz or mechanical. Both feature myriads of excellent materials, functions and styles. Legend Swiss have been known to provide watches for all types of lifestyles may it be for sports enthusiasts, travelers, businessmen, or the fashion-conscious women.
There is certainly something for everyone and on a wide price range!
Below is all the things you need to know about Swiss Legend to help you make more informed decisions on your purchases.
Quartz vs Mechanical Movement
The movement of a watch is what powers and makes it work. It is also the one thing that drives all the time-keeping functions including dual-time, regular time, a chronograph and sometimes the calendar. A watch would not be able to function without it.
Type of movement: Quartz
Features: It does not require you to wind it manually, the batteries lasts up to two to three years, it is able to feature thirty-two thousand rotations per minute, it is renowned for accurate time-keeping, and it only loses less than ten seconds a month.
Type of movement: Mechanical
Features: It demands manual winding, sometimes it displays mechanical movements to the watch's face, features only twenty-eight rotations per minute, it can lose several minutes a month, it is definitely more expensive but it lasts longer than any quartz watch.
Swiss Legend has been providing both quartz and mechanical type of watches since 2005. Their styles offer watches exclusively for men and women but now they are producing collections that offer for both.
Men's styles
Swiss Legend provides multiple varieties of men's watches. They are designed with a specific type of male which makes it able to reflect any man's personality. The most popular choices are the Peninsula, the Ambassador and the Planetimer.
The Peninsula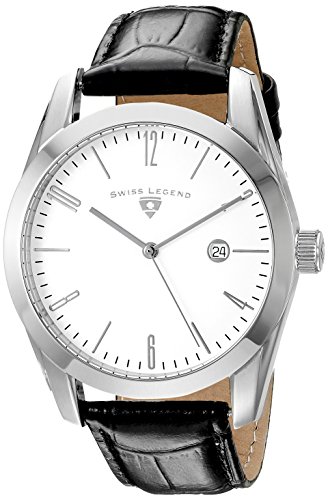 Overview
The Peninsula
features straps that are made from an alligator and an ostrich's hide. Buyers can choose between a classic or a chronograph face as for the Swiss quartz timepiece. This watch is available in a multitude of colors for the strap but the face selection can be difficult as it is only available on either silver and gold. Its water resistance can hold up to 100 meters underwater.
View More
The Ambassador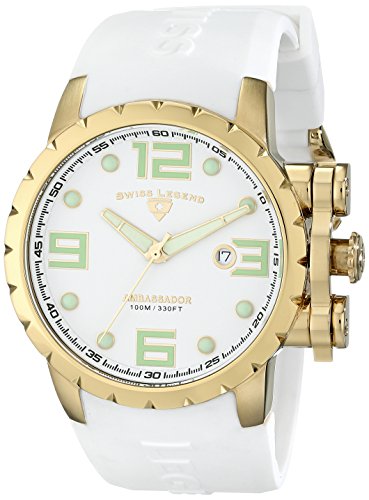 Overview
The Ambassador
has a colorful and bold face that could stand out as it has a chunky and modern look to it. It comes with a stainless steel watch and the silicone strap being interchangeable. Straps on different colors are available to suit any occasion and it also features a water resistance of up to one hundred meters. Like the Peninsula, it has an accurate quartz movement.
View On Amazon
The Planetimer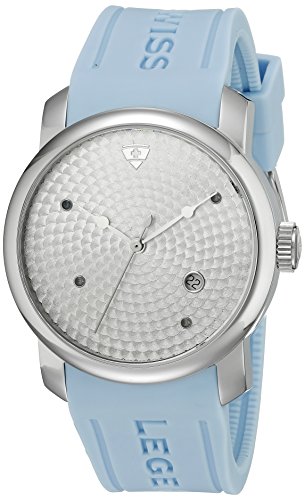 Overview
The Planetimer
presents a colorful silicone or a trendy alligator strap. It is a mechanical watch that caters to modern men. Its metallic dial displays unique scalloped patterns along with raised and genuine ruby markers and pie-cutter hands. The Planetimer comes in a gold plate, black ion plate and stainless steal. It also comes with a winder if bought from amazon. Go to amazon.com and look up The Planetimer Swiss Legend.
Learn More
Women's Styles
Swiss Legend also makes a lot of trendy watches for women. They offer quite a number of collections featuring colorful bands with diamond studding which could adorn a classy woman's wrist.
Bella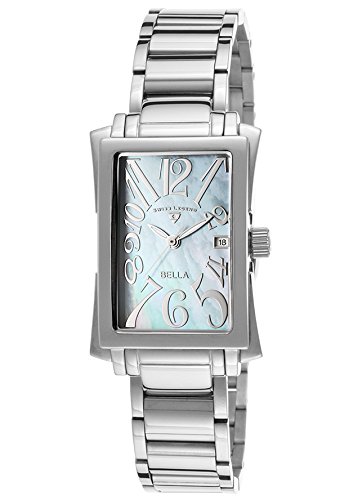 Overview
The Bella
features a rectangular face and a ceramic bracelet that is scratch-resistant and hypoallergenic. Women get to choose from white or black bracelets with stainless steel, gold-plate or diamond-inlaid bezels. It has mother-of-pearl dials with an Art Deco-inspired numbering which is a favorite among women.
Learn More
Classic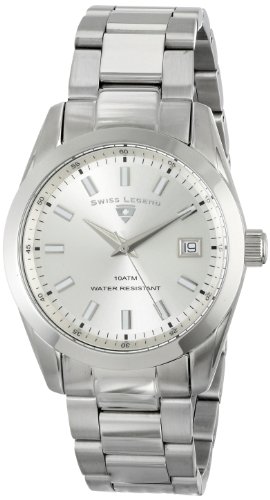 Overview
Swiss Legend's Classic
timepiece is perfect for the no-nonsense woman. It has an elegant stainless steel bracelet with a lot of color choices for its watch face. It is framed by either gold-plated bezel or stainless steel and can hold up to one hundred meters underwater.
Learn More
Swiss Legend is known to be one of the most trusted watchmakers in the industry making it worth your every penny.