Omega Vs. Rolex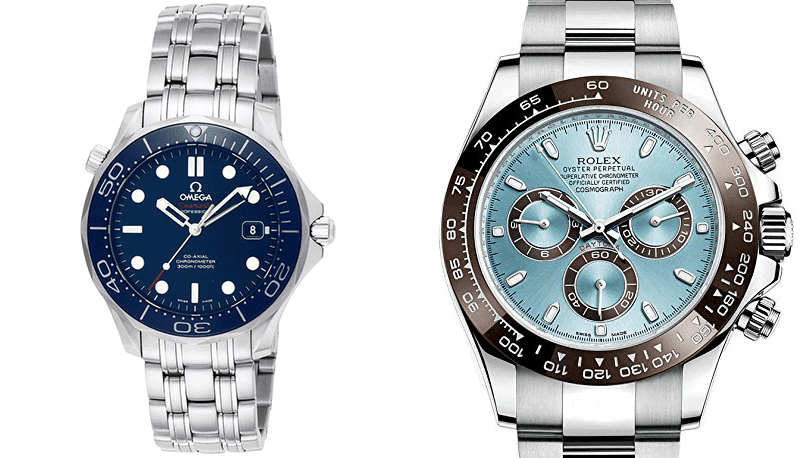 Windows vs. Apple, Pepsi vs. coca cola, there are some brands that are doomed to be compared with each other throughout their lifetime and when it comes to watches, there will always be a Rolex vs. Omega debate. Both of these watches are from respected time pieces manufacturers in Swiss. Each has its passionate followers but the obvious question is always, which is the better one? This article put the two most popular men's watches in comparison.
Both of these watches represent the pinnacle of bezel from function and form and they are almost identical. The unidirectional bezel checks the watch that can be easily turned and is grippable. Both of the watches makes a click sound as you turn and the markings around the bezel are perfectly aligned with both the hands and the dial markers and they are legible as well.
Omega casing is absolutely flawless and it blends perfectly with its function and form. It is water resistant and absolutely gorgeous. A built in helium release valve makes this watch very useful in extended time deep dives and it has a gorgeous sea monster logo at the back of its casing. The case also has numerous curves and angles that vary the way light is reflected and strikes case.
Rolex on the other hand has a classic yet simple design. The casing is water resistant but it does not have a helium release mechanism. There has also been a few complains of the uncomfortable sharp edges on the case.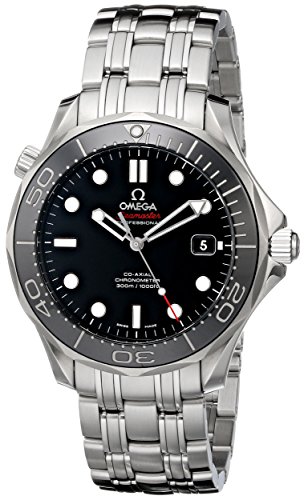 Both Rolex and omega have a certified, dependable and rock solid movement. Omega is a 23 jewel COSC certified movement. Omega modifies the 21 jewel base heavily to produce to produce the pretty chronometer grade movement cal.1120.
Rolex on the other hand is 31 jewel COSC certified movement that it has been using for many years. This may not be the prettiest movement but it does the job it is designed to. However, Rolex does not have some of the advantages omega has, for example, Rolex has a longer reserve of 50 hours while omega has 44 hours.
View Best Rolexes
Or
View Best Omegas
Although these two watches are almost similar in function and form, omega still costs almost three times less than Rolex. In addition, most omega watches receive a 30-35% discount off the retail price. However, with Rolex the prices are mostly fixed with a very small or no discount. Buying a new omega watch will cost you about $3000 while the cost of a new Rolex ranges from $6000-$30,000. The higher end is if diamonds and gold's are involved.
There are three factors which contribute to the present retail pricing as well as the future pricing of Rolex watches. One, Rolex has a policy of regularly and continuously increasing their retail price. Second, Rolex is very tyrannical when giving discount and it will not give a discount of more than 10 per cent. Lastly, Rolex controls production in order to make sure that the supply of their watches is not more than the demand. Therefore, there is no need to reduce or later their prices yet they sell every watch they make. Rolex also has a higher resale value than mega watches.
Omega is a well-respected and well known watch both outside and within watch enthusiast circles. Their estimated brand recognition is about 70 per cent worldwide.
Rolex on the other hand is known as the prestige standard on which other watch brands are measured. The marketing efforts of Rolex are unmatched, even people with just little or no knowledge of watches knows about Rolex and they associate it as being the best brand.
Rolex has the most comfortable bracelet that you will ever come across in watches and it has gained popularity among many people due to its high quality and durability. An amazing thing about Rolex watch is that you can wear it for over 40 years and still pass it down to another person with very little maintenance and it still runs fantastically.
In conclusion, both of these brands are great besides their minor differences, however, when choosing the best watch to buy, you should not be led by other people's opinions, instead, you should buy what you like and suits your taste and personality.
View Best Rolexes
Or
View Best Omegas