New Gold Rolex Watches In 2014
If you're looking to get yourself, or someone special to you a brand new gold Rolex, then stick around. Gold Rolex watches are one of those investments that you can't go wrong with. They're not going to go out of fashion, nor is anyone going to begrudge receiving one. You can't get much more of a surefire bet than that.
Today's post is going to take a look at some of the better options out there. Despite my assertions that you can't go wrong with a Rolex (and a gold one at that), there are still a few different designs to take into consideration, and you'll also need to decide if you want to go full gold, or part gold. Personally I think some of the silver and gold plated models look incredible.
Let's start off with the fully gold ones. I've picked out the 5 that are a mixture of visual appeal, and quality. You can follow the links to learn more about each individual watch.
Brand New Men's Gold Rolex Watches
The Date-Just range is easily one of the most popular Rolex lines, and that makes it one of the best watches in the world. Featured above is the 18K President variation, my personal favourite of the all-gold range.
While the Yachtmaster was designed as a sailing watch (it can withstand some very extreme weather and is designed to be more readable than other Rolexes), it works as a fashion item as well. The exquisite design isn't going to leave anyone questioning why a non-sailor would buy it.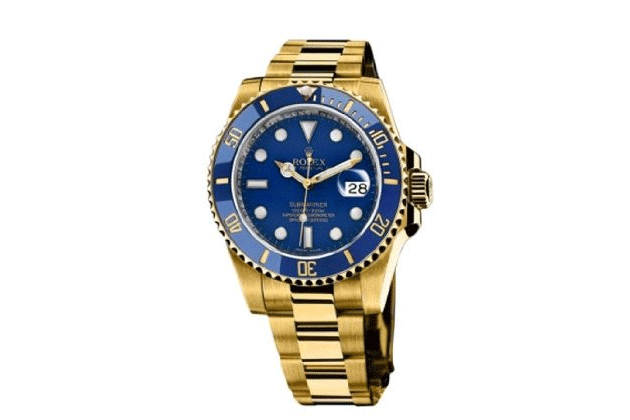 View More
Just like the Yachtmaster is more than just a sailing watch, the SubMariner is more than a diving watch. If you DO dive though, then this is a must.
Gold And Steel Mixed
As I mentioned above, you might want to consider taking a look at the designs which mix stainless steel and gold together, as they are incredibly stylish. It all comes down to personal taste, but here are three of the best in my opinion.
1. Datejust Automatic 18k Gold Bezel
My all time favorite, the mixture of gold Bezel and bracelet, steel case, and black dial is just pure class. An incredible watch and a thing of real beauty.
2. GMT Master II Black Dial Gold Bezel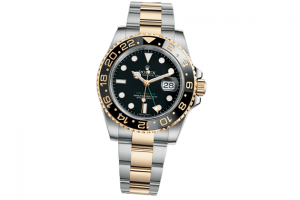 Just as stunning as the Datejust, I think I have a thing for the black dial, gold bezel combination. The gold numbering makes this one arguably better than the Datejust above, and comes in a very close second. Visually stunning.
3. DateJust Champagne Automatic 18k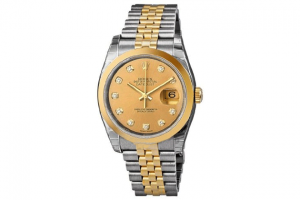 The final one to make up today's list, The champagne has an interesting mix of gold, silver, and diamond. What more do you need to fulfill your classiness criteria?
All the watches in this list are just a selection that I've picked out. The list isn't meant to be exhaustive at all, and you can find many more on Amazon at great prices too. I also welcome any other gold Rolex suggestions or comments on any of the watches listed here.