Emporio Armani Men's AR2448 Classic Blue Dial Chronograph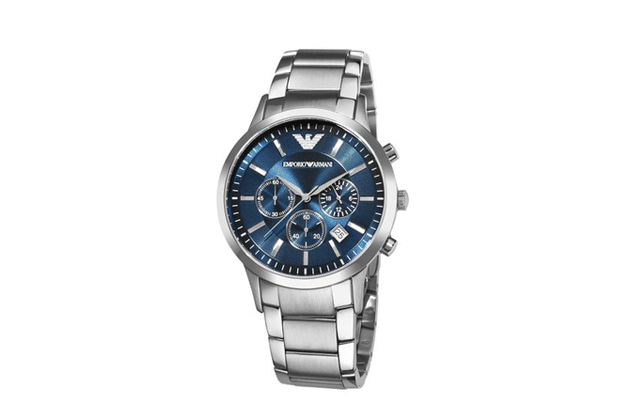 What Makes This One Special?
A very highly regarded and popular watch, the "classic blue" Chronograph is sleek and impressive.
This watch is similar to another of the Emporio range; both are sporty and stylish at the same time, and both mix function with class. I've always maintained that a Chronograph should be easy to read, and this particular Emporio watch definitely meets that criteria.
More importantly though, it's just an excellent looking and well-made watch. This could make a fantastic dress-piece, or a reliable everyday use watch. You'll be able to show that you have taste, yet you won't find it imposing.
The relatively small price tag is also something that attracts a lot of people to Emporio Armani watches.
In terms of material, it's nothing remarkable. As you'd expect with a luxury watch, it's mostly stainless steel. The bracelet is three-link stainless steel as well. Watches don't have to be unique in terms of their material though in order to be worth buying. Of course, TAG Heuer might disagree.
This is not one of the "Swiss-Made" range that Armani has to offer, but don't let that take anything away from the quality. Fossil handles the manufacturing of most Emporio Armani watches, and as they're such a well known and established brand, you should take some satisfaction in that.
Conclusion – Stylish, Comfortable, Affordable
For those who want a piece of luxury without spending thousands of dollars, the Emporio Armani range really is a fantastic option. Just like with a Citizen watch, you can get quality and reliability for a great price.
Check out the video below to see the watch in action and judge for yourself.