Emporio Armani Chronograph Black Dial Black Leather AR2447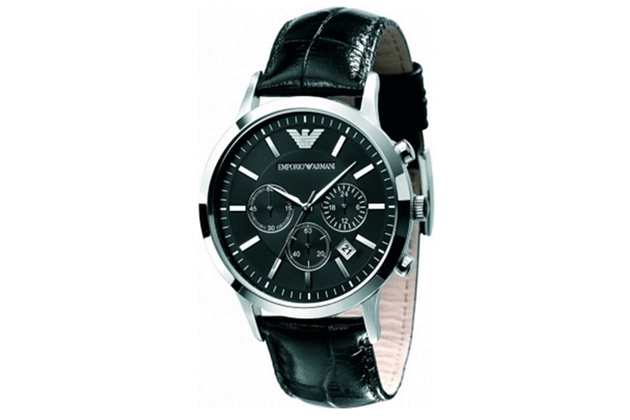 What Makes It Special?
While most other Armani watches have a stainless steel bracelet, this model goes for the leather approach.
It seems that the entire Emporio Armani range was designed to mix the casual sports watch with refined and classy feels. This is perhaps the greatest embodiment of that range.
The leather strap screams "Relaxed", while the overall design speaks more of refinement. It's a well made and fashionable watch. It's not at all obnoxious and more importantly, it's actually pretty lightweight, not just because of the strap. The stainless steel casing isn't particularly heavy either.
Features At A Glance
– Quartz Movement
– Black Leather Strap
– Chronograph Function
– Date display
– Stainless Steel casing
The chronograph and date display are actually fairly standard among the Emporio Armani range, with every chronograph having a near identical dial (in terms of layout).
As mentioned above, their entire range has a similar theme – sporty, classy, and refined. As such it means you can wear an Emporio Armani in many different situations- At a formal dinner, relaxing in a casual setting, on a golf course; whatever needs you have of it.
The versatility and quality of Emporio Armani, tied together with their lower pricing make them one of the most popular watches among those who want to show off some class without having to spend thousands of dollars. This particular model can be had for under $200 on Amazon.
These watches are manufactured for Armani by Fossil inc, a well known America-based manufacturer. Armani also has a more up market "Swiss-made" range, but this one is not included in that.
If you're looking for a classy watch that is affordable without being cheap, then this is definitely one that you can definitely consider this one.