Citzen Eco-Drive Day Date Casual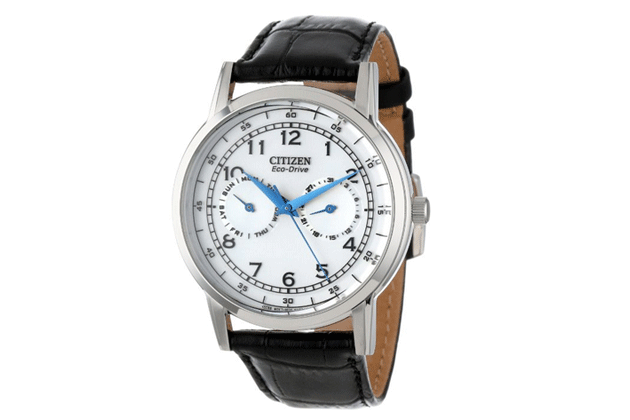 What This Eco Drive Day Date Special?
There's a combination of sleek design, easy readability, and reliability that makes this watch casual yet classy.
This Citizen Eco-Drive takes sporty to a new level by making a watch that would be just as comfortable as a smart-casual dress piece. The balance between large numbers, readability, and smooth design makes a watch that is very easy on the eyes. It's relaxed, yet sophisticated.
Similar to another model, this men's sports watch is also an Eco-Drive. You'll never have to worry about batteries again with this one. Citizen are very well known for their battery technology and the Eco-Drive can store up light for up to 6 months, depending on the model.
While you may think at first glance that it's another Chronograph, it's actually not. The two dials are the day and date displays. This is a slightly unique twist on the standard day-date model watches. Here, the day-date feature is a much more important part of the watch's design, rather than appearing as an afterthought.
Accuracy/Reliability
Citizen are well known for their attention to detail and the reliability of their products. Partly because the Eco-drive means you don't have to deal with fading battery life, and partly because they are just well made.
While every watch will need maintenance from time to time, the Citizen isn't one that will particularly bother you. Generally citizen stores offer free maintenance as well, regardless of whether you bought from them or from Amazon (which is usually cheaper). This may differ from country to country though. Either way, you can rest assured that you'll be getting quality.
Generally Citizen watches are as accurate as you'd expect for their price range, losing or gaining just a few seconds every month.
What's more important is that they are well put together, and aren't likely to come apart of loosen for a good few years.