Citizen Quartz Day Date Men's Dress Watch Gold Tone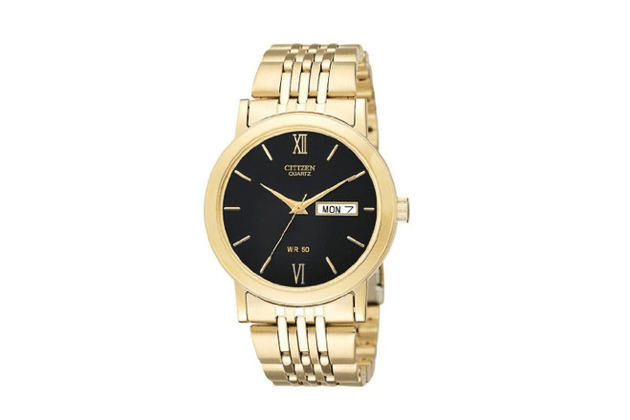 What Makes It Special?
This could easily be a much more expensive watch. It looks great, but doesn't sacrifice quality for the price.
This is a men's dress watch made from gold stainless steel (comes with a five year warranty). As well as the black dial featured in this image, you can also get a regular white dial.
Unlike the more common Eco-Drive, this is powered by automatic quartz.
What's great about this watch, as mentioned above, is that you get an excellent quality dress piece that doesn't force you to break the bank. It's no Rolex, but it will still make you look the part in many social situations.
Due to it's primary function as a dress watch, it only comes with a 50 meter water resistance classification, whereas most watches and dive watches will be a lot more sturdy in the water.
Let's face it though, you're not going to be wearing this watch in the sea.
Other Uses
As well as a dress piece, it's not an obnoxious watch. You can easily use it in every-day use and find it to be pretty versatile. It's not going to fail you and as with all Citizen watches, is well known for its accuracy and timekeeping.
At the  end of the day, this is what you want most from a watch.
Remember you will not be paying a huge amount, which means the fact you can make it your primary watch is even better. Versatility is important in a watch. Just don't wear it below 50 meters.
Downsides
The only real downside is that it's not an eco-drive watch. However, this is not a huge downside. People seem to be spoiled with Citizen watches because the eco-drive range is so large. It wouldn't be wise to simply disregard their quartz watches though. Quartz movements are still very good quality and this Citizen quartz watch is not going to have any reliability issues.