Citizen Eco Drive For Men
The Citizen Eco-Drive is one of the most popular watches for men. My first "real" watch (one that had a brand name and wasn't a cheap throwaway watch) was an Eco-Drive, and it reignited my childhood obsession with watches. I guess its purchase ultimately led to this blog's creation.
Mine was a chronograph, and I remember wondering what I was supposed to use it for at first. I soon found "reasons" to use the stopwatch function, such as timing pointless activities. One thing I noticed about the eco-drive is that you don't get tired of exploring its features.
Citizen Eco Drive For Men – Well Priced, Well Designed, Well Worth It
Citizen appeal to so many men because they are very well priced. They are expensive enough for people to think them classy, but affordable enough for most people to consider. Let's face it, they're not Rolexes, but they still have some class to them. I got mine for my 25th birthday as a gift from my girlfriend. We were eating at a classy steak restaurant (Lawry's) and I felt it was an excellent and fitting gift.
Admittedly I didn't realize that as luxury watches go, it was some way off "real" quality or class, but there you go. Citizen has some serious appeal and their watches bring class to the masses.
So let's take a closer look at the Eco-Drive for men and highlight some of the different models.
The name comes from the fact they are powered mostly by natural and artificial light. They never run out of power. Some variations are powered by temperature as well as light, but the vast majority are light.
Here's a testament to how long it lasts – since 2007 Citizen has estimated that they've eliminated the need for over 10 million batteries to be replaced in North America alone. That's also a testament to the popularity of their watches. They've got such a huge range readily available that I'm not surprised by this.
I think most people will never make their watch purchasing decision based purely on whether or not they'll need to replace the battery, which is why the look at feel of their designs is such a big factor in the Eco-Drive's popularity.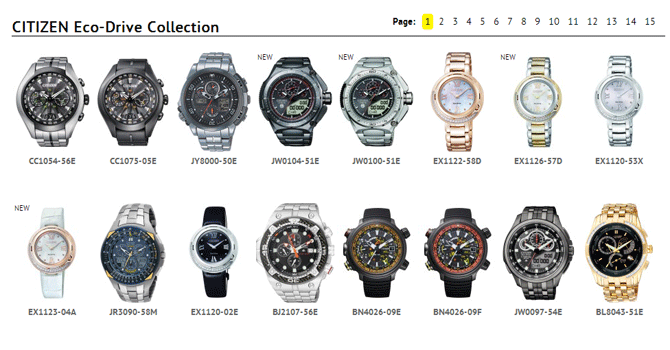 Check out some of the more popular designs here.
We've currently highlighted a few of the Eco-Drives in our list, and will be adding more in future, but I'd just like to take a minute to talk about my favorite one, the Leather and Titanium:
It's a highly rated watch, earning 4.3 out of 5 stars on Amazon from over 300 reviews, but for me it just looks fantastic. I didn't use to be a fan of the leather straps, preferring instead to opt for a stainless steel bracelet, but on this model is just really works. I love the design and feel and everything!
It's not the cheapest Eco-Drive, although you can get it on Amazon for $280, which is $120 cheaper than the RRP.
What's your favorite Citizen watch? Got any experiences with the Eco-Drives yourself? Let me know below!