Best G-Shock Watch Reviews
The Casio G-Shock is a world famous brand that is producing the high-tech, stylish and tough watches since last more than 35 years. Some of these watches are affordable for almost everyone, while a lot of its models are used by various types of celebrities including royalty, musicians, sports stars and actors. Brief reviews of some of the G-Shock watches are provided in this write-up to help you choose the right one.
GWG-1000 Mudmaster
This is the latest model of G-Stock watches, in its class, introduced by the company by the end of 2015. It was considered as the most highly expected model from this company after the release of its Rangeman model. It is the upgraded analog digital model of the popular watch Mudman of this brand. It pushed the level of Casio watches to a bit higher than earlier.

Pros
By appearance, the Mudmaster is a combination of analog watch and beefy Rangeman which makes it one of the best analog digital G-Shock watches due to its strategical style. It is resistant not only to dust and mud but also to extreme vibrations to protect its analog movement with the help of the guarded button structure, it borrowed from Rangeman. Three types of sensors are provided in it including altimeter, barometer and compass along with thermometer makes it known as ABC watch.
Other beneficial features of this G-Shock watch include Multi-Band 6, radio wave timekeeping, a sapphire crystal for extra scratch-resistance and Tough Solar power
Cons
It is the largest G-Shock watch with its 59.5mm × 56.1mm × 18.0mm size. Its higher list price, although the Gulfmaster and Rangeman models from G-Shock offer better value with similar features. Still the Mudmaster is considered as the best of all due to the confidence it provides to its users. Moreover it includes the analog style to provide it high level toughness and the best design elements of G-Shock brand.
It is considered as an ideal watch for people in demanding profession like rescue workers etc.
GPW-1000-1A Gravitymaster
This is another best G-Shock watch in its class due to its most effective Hybrid Wave Ceptor for GPS and a number of other innovative features. It was considered as the first watch to include the combination of GPS technology and Multi-Band 6 technology to synchronize its timing without any problem.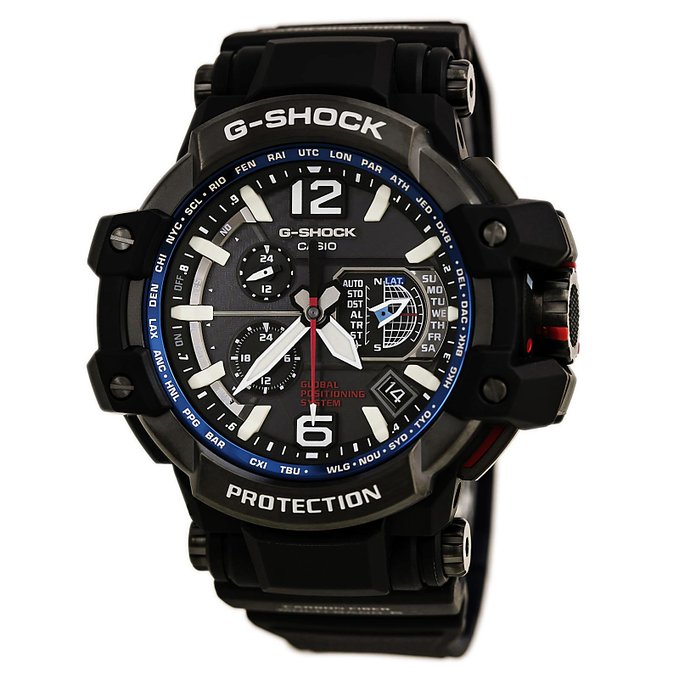 Pros
GPW-1000 Gravitymaster can locate your position by synchronizing the time with the help of the data from GPS satellite signals and Multi-Band 6 radio signals, even when you are out of the range.On the basis of your location, it can adjust the time zone which can help in synchronising time anywhere in this worldA sapphire crystal, Triple G Resist, a carbon fibre insert band and Tough Solar are the other features which make it one of the most hassle free watches.
Cons
Though this G-Shock watch is worth its high list price due to its special features but still it is one of the things which make it unaffordable for everyone.
This G-Shock watch is the best for the travellers and adventurers who normally travel to far-off destinations.
GW-9400-1 Rangeman
It is one of the best G signature line of watches, used by professionals, produced by the world famous Casio G-Shock brand. The Triple Sensor including compass, thermometer and altimeter-barometer is the main reason of the success of this watch.
Pros
The price GW-9400-1 Rangeman is affordable. Its insistently bulky structure ensures protection from extreme shocks. It is resistant to dust and mud due to its protected button and a single button to access sensors easily. People who love tough and classically styled and affordable watches with latest features may find it ideal for them.
Low temperature resistance, sunrise/sunset data, 24-hour countdown timer, 1000-hour stopwatch, bearing, atmospheric temperature and pressure readings and 40 record memory for date/time are the other features that make it the most tactical and functioning watch. Availability in wide variety of colours and carbon fibre insert bands make it more desirable watch for the fashion lovers.
Cons
Though this watch is supported by Multi-Band 6 and Tough Solar technologies, which make it the best watch in its class, but its digital structure is abused much more than that of a mechanical watch.
DW-5600E-1V
The minimum number of features makes this G-Shock watch the cheapest one in this list of the best G-Shock watches. It looks like the DW-5000C watch produced by Casio G-Shock brand 30 years ago, at the start of its business.
Pros
It is impossible to find a better performing and tougher watch than DW-5600-1V which is available at entry-level pricing. If you are searching for a trouble free watch with date, time, stopwatch, timer and alarm then it is the best G-Shock watch for you as it incredibly ensures to pay back the value of your money spent on it.
The watches of 5000 series are the basis for the success of the G-Shock brand as it is one of the best selling series of this brand, even after so many years of its initial introduction. This watch is known not only for its affordable price but also for the timeless design, human achievement and technological advancement attached to it.
Cons
It lacks of a number of advanced features like Multi-Band 6 and Tough Solar technologies, multiple alarms, full auto backlight and world time.
Still the DW-5600 is the best watch for those who appreciate the standard size and simple styling but bulky structure and latest Japanese features in their watch.
G-Shock GD-X6900
This G-Shock watch is the upgraded and additionally larger version of DW-6900 of this brand, running successfully for a long time. Being one of the limited edition watches and various colour variants, it has become one of the most fashionable watches from this brand.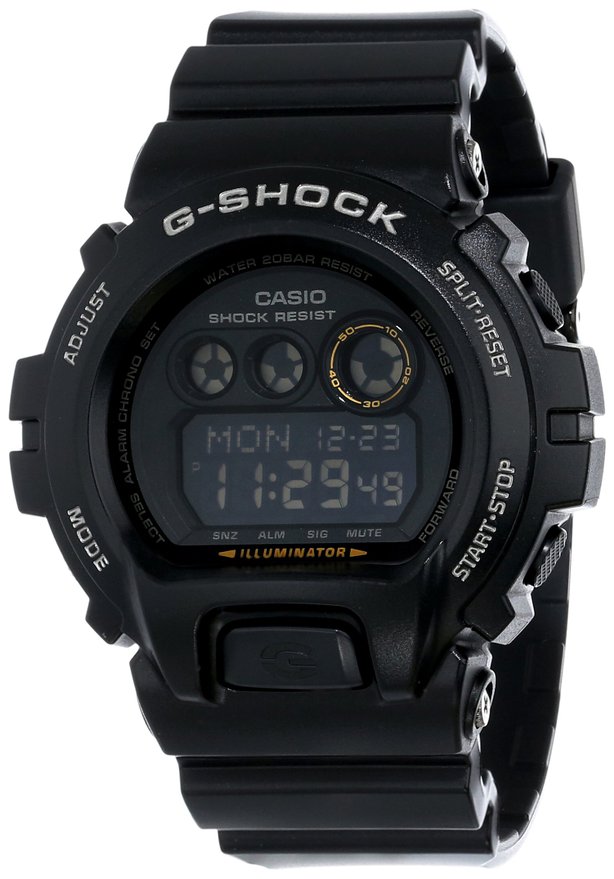 Pros
This watch has successfully passed the DOD approval of Environmental Stress Testing Protocol, MIL-STD-810, and for that reason it is also known as MIL-STD or MIL-SPEC G-Shock watch.The Alpha gel used in the module of this watch provides it additional protection. The life of the battery of this watch is also very long, 10 years.The basic colour of this watch with reverse LCD display is black
Thus after going through the reviews of various G-Shock watches you can easily select one for you. If you want to review more models of the brand then you can visit their official website for this purpose.