Best Emporio Armani Watches
Armani is a brand that doesn't need any introduction. When it comes to fashion, they've dominated the scene for a very long time, but when it comes to watches for men, are Armani still a driving force? In this article, I'm going to show you some of the more innovative and stylish designs that the best Emporio Armani watches have to offer, and point you in the direction of further reading.
You can also find the best prices online by following our links.
Five Beautiful Emporio Armani Watches For Men
1. Classic Black Leather Black Roman Numeral
The Roman numerals on the dial is a seriously nice touch, as well as the angling of the minute and hour hands. It's actually one of the cheaper Armani watches, coming in at just over $100 on Amazon. There are a few different variations that have the black leather strap, but this is, in my humble opinion, the best designed overall.

2. Emporio Armani Classic Chronograph
For the fans of the more "futuristic" and cutting edge styles from Armani, this will be more to your liking. It's double the price of its compatriot above, and some would argue double as stylish as well.
Armani has a talent for making Stainless Steel look like more than just one color, using grading and shading well. This, like a lot of Emporio Armani watches for men, would make an excellent statement in any company.

3. Chronograph Stainless Steel and Black Leather
I like to think of this watch as the Gentleman of the bunch, it's thinner strap making it more sophisticated and mature. That said, the chronograph dial has a sense of danger and adventure to it, so any aged man would welcome it on their wrist.
This one is also experiencing a nice discount on Amazon right now, with around 30% off.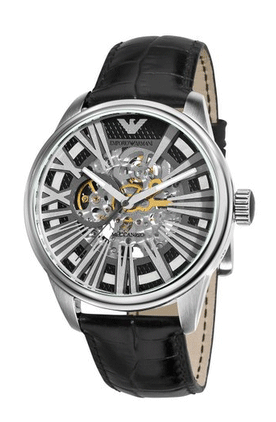 4. Meccanico Black Skeleton Dial
What can I say about this one? It's a stunning design and every bit a statement. It's got some novelty to it, but there's more to it than that. My only concern is, how well can you tell the time with it?
I get the impression though, that anybody who wants to wear this isn't too concerned about how practical it is. Besides, if it takes you a bit longer to tell the time with it, it's not like you're going to mind looking at it for a bit longer is it?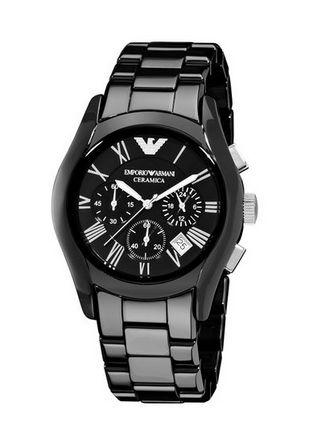 5. Ceramic Black Chronograph
There are quite a few beautiful watches in the Ceramic range, with styles and designs to rival the TAG Heuer ceramics. This is one of the ones that stood out the most to me, although I'll admit that it might be a little too black for some.
You can visit the Armani website to check out some of the other Ceramics, as there is quite a variety on display.
Choosing The Best Armani Watch
Sometimes, choosing your design is harder than anything else. You know you want an Armani, you know you can afford one, so which one do you go for?
Ultimately it's down to personal preference. Look around and see what's on offer, and eventually you'll realize there's one that you keep returning to. That's most likely the one for you.
In terms of performance and style, not a lot separates them, just go with your own tastes.